Organic Facials
At Vancouver Massage offers a variety of skin care options for you depending on your skin type.
Our quaint little esthetics space provides a darling environment to relax and rejuvenate your skin.
The Amethyst Bio Pillow is used under your head and shoulders to provide extra infrared therapy during your facial.
Get your skin  looking and feeling its best. We are proud to use our locally sourced Angelica's Organic Skin Care products.
Angelina's Organic Skincare
Angelina's Organic Skin Care from Bend Oregon blends traditional herbal wisdom with proven plant-based science to reveal your skin's natural radiance and vitality. By supporting small, organic farms and Fair Trade cooperatives and working towards zero-waste production, we create beauty from the ground up. Every ingredient in our luxuriously effective, small-batch formulations is sustainably grown and harvested to support our "full-circle beauty" philosophy.
Benefits of High Frequency Face Wand
Accelerate blood circulation, strengthen lymph activity, stimulate circulation, eliminate acne & pimples.

Designed with 4 treatment method: indirect high frequency, direct high frequency, hair care method and spark method.

Reduce wrinkle & fine lines, tighten skin, reduce skin irritation, improve skin texture & complexion
Ashley's Express Facial
30 minutes | $35
Treat yourself to a 30 Minute Express Facial with our locally sourced Angelina's Organic skin care line.
Our Esthetician Ashley Klein will use a deep cleanser, exfoliate and moisturizer along with a mini facial massage.
Angelina's Express Clear Skin Facial
30 minutes | $45
[ oily – acne – combination ]
This therapeutic treatment is specifically designed for skin problems including inflammatory and non-inflammatory acne. You'll experience gentle exfoliation, deep pore cleansing and calming treatments to bring your skin back into a healthy balance.
We utilize the power of natural plant ingredients like willow bark (salicylic) and replenishing algae, combined with  high frequency machines for instant results.
Your friendly and knowledgeable esthetician will be happy to discuss tips and products for maintaining clear skin.
Parent or guardian signature is required for guests under 18 years of age.
($10 off with local student ID)
Ashley's Organic Rose Facial
60 minutes | $75
WHAT TO EXPECT: We begin with the Rose cleanser.  Next a blossom clay mask followed by a gentle exfoliation,  soothing facial massage and specially selected mosturizer to maximize your skin's health.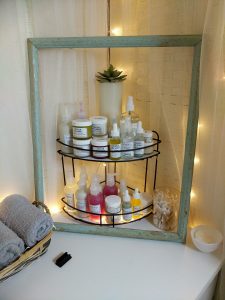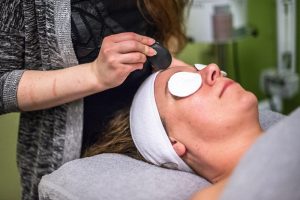 Youth in Bloom Facial
60 minutes | $115
[ anti-aging ]
Plump up your skin and soften fine lines and wrinkles while you relax during this deeply rejuvenating facial. Hydrating hyaluronic acid, powerful peptides and bioactive plant extracts plump and firm your skin.
WHAT TO EXPECT: We begin with a deep double cleanse. Next, an enzyme or lactic mask will be applied, followed by a gentle scrub to remove dull, dead skin. High Frequency technology promotes cellular renewal and repair. We then replenish your skin with a customized mask while you enjoy a blissful hand massage, followed by a luxurious facial massage with our Youth in Bloom Firming Serum. Application of our firming Youth in Bloom moisturizers leaves your skin dewy and protected. Your esthetician will recommend at-home skin care to further the benefits of your facial.
BEST CANDIDATES: Normal, devitalized or dehydrated skin. If you would like to diminish the appearance of fine lines and wrinkles and restore youthful radiance, this facial is an excellent choice.
Angelina's Nourishing Facial
60 minutes | $95
[ dry – normal skin ]
Give your dry, dull, dehydrated skin what it's been begging for. This nutrient-rich, deeply moisturizing treatment helps restore your youthful glow to give you that coveted dewy complexion.
WHAT TO EXPECT: We start with a deep double cleanse, using herbal infused steam and High Frequency technology to promote cellular renewal and repair. Dead skin is removed with an customized exfoliating treatment, depending on your personal skin needs. Next, relax as our Herbal Facial Oil is rhythmically massaged into your skin. A mask with raw honey further replenishes moisture and nutrients as your esthetician gives you a blissful hand massage. Your ritual concludes with an application of our nourishing serums and moisturizers.
BEST CANDIDATES: If you have dry or dehydrated skin. It may appear dull, tight, itchy or flaky and look very flat.
Angelina's Clear Skin Facial
60 minutes | $95
[ oily – acne – combination skin ]
An effective treatment to detoxify pores, banish bacteria and calm inflammation to restore your skin's natural balance and get your complexion back on track.
WHAT TO EXPECT: We begin with a double cleanse, using High Frequency technology to promote cellular renewal and repair. Herbal steam and a gentle massage with healing yarrow oil soften and prep the skin for a customized exfoliating treatment. Your esthetician will perform extractions, if needed. Next, a remineralizing algae mask with willow bark (salicylic) opens your pores while our esthetician give you a relaxing massage. The ritual concludes with application of non-pore clogging serums and moisturizers.
BEST CANDIDATES: You may be an adult wanting to clear up blemished skin or a teen just starting to break out with acne. No matter your age, skin type, or gender, this facial treatment is exceptional for large pores, inflammation, and excessive sebum production.
Rebalancing Facial for Men
60 minutes | $85
[ all skin types ]
A cleansing and rejuvenating treatment that counteracts skin irritants such as shaving. Your esthetician will customize your facial to achieve a refreshed and balanced complexion.
WHAT TO EXPECT: A deep double cleanse followed by herbal infused steam and exfoliating masks to remove dull, dry skin, making it smoother and more refined. Powerful  high frequency machines addresses blemishes and congested pores, while promoting cellular renewal. Extractions are performed, if desired. Next, relax as you receive a facial massage with replenishing serums and facial oils. Your treatment ends with application of moisturizers to leave your skin looking healthy, younger and rejuvenated.
BEST CANDIDATES: This fully customized facial can benefit all men, regardless of skin type or age. Your esthetician will determine the best products to bring out your gorgeous good looks.
---
---